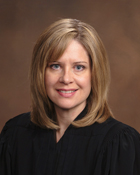 Tamela Womack became magistrate for the Fairborn Municipal Court in January 2008. Prior to this, she represented indigent clients charged with misdemeanor offenses as an Assistant Public Defender for Greene County. In addition, she has worked as an Assistant Prosecuting Attorney for the Greene County Prosecutor's office as well as a Hearing Officer for the Greene County Child Support Enforcement Agency.
Magistrate Womack has earned a Bachelor of Arts degree from Bowling Green State University and a Juris Doctorate degree from the University of Toledo in 1997.
Currently, Magistrate Womack is a member of the Ohio State Bar Association, and the Ohio Association of Magistrates.