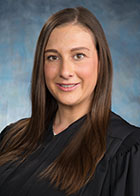 Amy Bailey became Court Administrator and Magistrate for the Fairborn Municipal Court in August of 2019. Prior to this appointment she represented clients at Ferguson Law Office in the areas of criminal defense, family, and immigration law. Magistrate Bailey also regularly practiced in the United States District Court for the Southern District of Ohio and the United States Court of Appeals for the Sixth Circuit.
Magistrate Bailey earned a Bachelor of Arts degree from the University of Dayton in 2008, and a Juris Doctor degree from the University of Dayton School of Law in 2011. While in private practice she was an active member of the Dayton Bar Association and was chosen for the Leadership Development Class in 2014. At the time, she was also involved in the Ohio Association of Criminal Defense Attorneys and the Stanley Z Greenberg Family Law Forum.
Currently, Magistrate Bailey is a member of the Ohio State, Dayton, and Greene County Bar Associations. Within the Greene County Bar Association she serves on the Grievance & Ethics Committee. She is a member of the Ohio Association of Magistrates and the Ohio Association of Court Administrators. Additionally, Magistrate Bailey is an advisory board member of the Fairborn Municipal Drug Court.